Golf Tournament App
Gem Golfers offers a comprehensive tournament management system. The system caters for attendance on the day of the tournament, multiple categories, ability to manage the cut on no of players, flight management, live scoring through players or marshals /scorers, different playing formats, single or multiple day formats etc.
addition, there are considerable interaction points with the golfer / club members. Through the app they will be able to see the results, check their handicaps, register for the tournaments, and see all the past data in addition to getting vital statistics of their game.
The system comes with a complete member management module and a messaging module. In which the clubs can manage the complete profile of their members and even send all or specific members in app messages.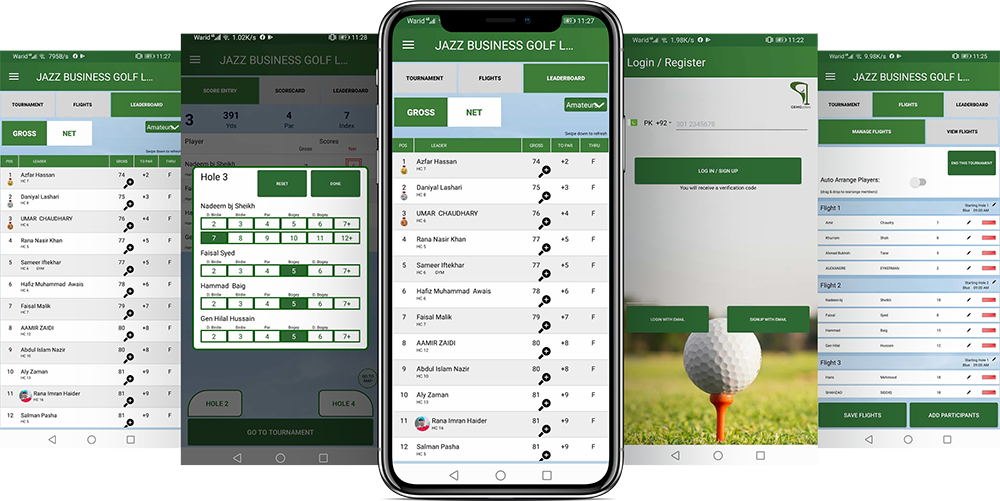 Golf Tournaments while being fun do come with a lot of headaches for the organisers, especially on the day of the tournament. All golf tournaments require organizers to manage before, during and after the Golf tournaments. Gem Golfers tournaments management module takes care of all this. Through Gem Golfers you can
Before Start of Golf Tournament
Send out notifications to potential participants.

Get automatic confirmed player list built

Set up the tournament in the system and set up automatic flights, set up automatic tee box allocations, give flight timings automatically based on specified time gap, set up scorers and create the Web URL for the tournament leaderboard.

Let the players know about their flight time, Tee box and playing partners via the mobile in advance

Let the system make flights based on handicaps or random with full flexibility to the organiser for switching players among flights
On the Day off Tournament
Take attendance of the participants

In case of player absence let the system manage the flights

Automatic notification to the players via mobile app of any changes in their flight, Tee Off time and playing partners

Offer live leaderboard to players via the mobile and at the club house via web URL

Get the live results
After the Tournament
Get comprehensive data of the tournament including number of players, winners list both in net or gross

details of the total number of pars, birdies and eagles, list of players for maximum pars, birdies etc.

Details about the most difficult holes on the course and average scoring on each hole for the tournament.

Details
This and many features allow the Tournament organiser to provide an immersive and fun experience to the participating golfers