Golf Tourism is a major event in every golfer's life. A must-have experience. A lot of planning, organisation and effort goes into planning and executing Golf Tours. Not to forget these trips can be expensive. GemGolfers aims to make this experience even more fun by taking the game digitally and turning every tour member's mobile device into a live leaderboard, digital scorecard, GPS distance measuring device and information dissemination tool.
GemGolfers has been designed, keeping the golf tour organisers and the tour members in mind. A perfect golfing tour can only happen through the intervention of a true digital experience as offered by GemGolfers. It will allow the Golf tour operators to offer a tournament like an environment by offering them an immersive experience. Golf Tour operators can engage with the touring party even before they leave for the destination, during the tour and well after the tour has finished.
GemGolfers allows the Golf Tour Operators to create their own tour, set up and manage their tournaments, run the tournaments and offer live leaderboards. They have the ability to launch Ryder cup format tournaments or simple stroke play or stable ford tournaments over many days. Live leaderboard offers a view of the daily tally as well as the all the days.
The digital leaderboard is intuitive and simple. GPS distance measuring functionality offers accurate distances so that players can plan and execute accurate shot-making. Distance measurement allows for finding distances for your second and third shots. Allows for accuracy with your approach shots by allowing to move the flag on the green to its current position.
Communication is one of the major challenges of any golf tour. The in-app messaging system offers that to the Tour Operator. He can send messages to a select or all of the tour members. Specific schedule information is available within each of the tours so that members have access to their flight info, hotel info, transportation info etc  and the access to all the relevant phone numbers.
Features
Tour Setup

Tour Registration
Tour Schedule and information

Tournament Set up

Make Teams or play as individuals
Different Tournament Types including multiple day or Single-day tournaments
Pairing Set up and Changes / Updates
Pairing information, tee off time & Tee box details all delivered to members via the app on their cell phone
Ryder cup tournament among team over 4 days with combined as well as individual day leaderboards

Leaderboard Features

Gross & Net Scores
The detailed score for each player hole wise
All formats supported including Match Play, Stroke Play, Stable Ford, Foursomes, Texas Scramble, Ryder cup format between two teams over multiple days

Data Consolidation

The Tour scoring data is available in a consolidated form as well as for all the touring members in their apps
Tour Scores also contribute towards the overall player statistics
Gem Golfers mobile app allows the Golf Tour operators to offer a competitive, immersive and wholesome experience to their tours. Through our app they can create tournaments, offer leaderboards, send in app messages and make the whole golf vacation an amazing experience for the travelers.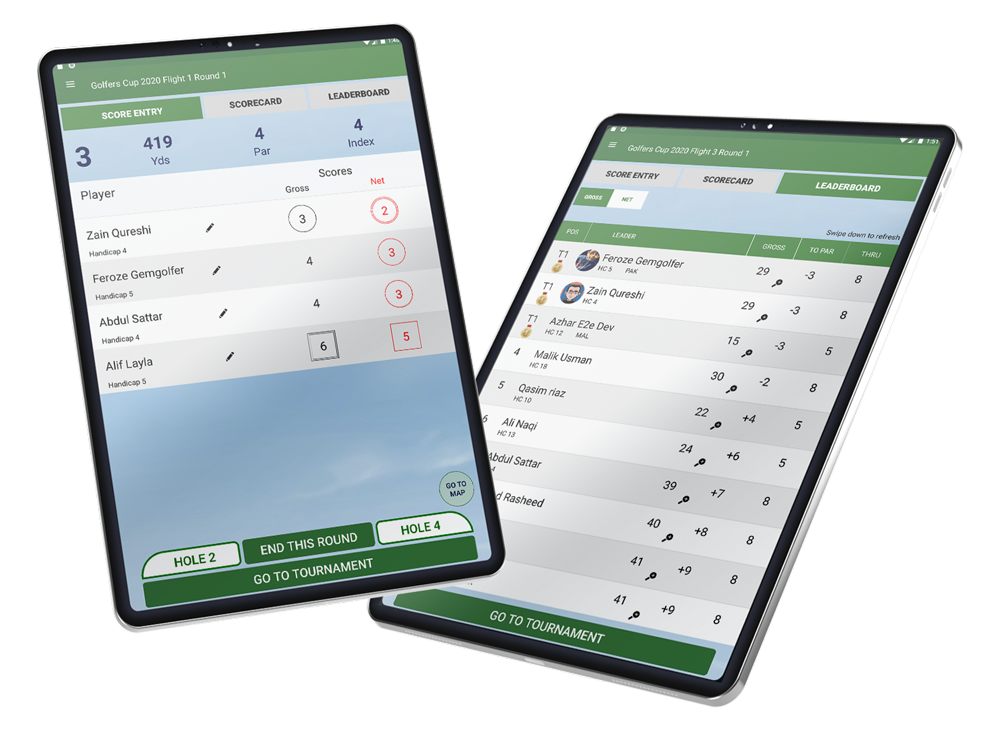 Contact us if you want to get above the field and offer an experience that make the golfers keep coming back to you
Able to see leaderboard
make their daily 4 balls
See club Tournament Schedule
will be able to sign up for tournaments
Get in app messages from the club
See the assigned flights, tee times, assigned tee boxes and playing partners details as soon as they are confirmed by the club in their app
see their detailed tournament scores
Able to see breakdown of how handicap has been changed.
Ability to check for other people's handicap
Ability to see reports and scores for tournaments based on different courses, regular games and tournament types
Ability to add details to tournament scores i.e. no of putts, FIR, GIR and other such information for detailed analysis
All performance enhancing / tracking features of the app
Ability to see all the leaderboards of all the tournaments being held around Pakistan and under the auspices of PGF
Users will be able to make the purchase or shift to premium version directly from our site or from the app, comfortably via click of a button